Photo-Gallery: 1997 Oregon Rainbow Gathering
Click on any picture to get it full-sized
(Best when used with an HTML 3.0 compliant browser)

A few others folks have also done their own web pages with pictures on the Oregon Gathering, so for more pictures, go to those sites.
Here's a nice collection of pictures from Aaron Derman that include several really good ones taken at night around campfires.
Deb's written a really nice trip report with pictures of the gathering. Almost as much fun as being there!
Here's a small collection of pictures from Boltzman Kaos.
---
This gathering was held in Ochoco National Forest near the towns of Prineville and Mitchell Oregon at an area called Indian Prarie.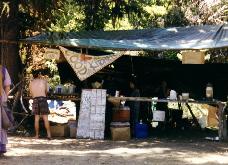 The Coop kitchen was there to focus on food for people working, and had the never-ending (well rarely, anyway) pot of coffee going.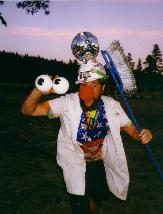 Vermin Supreme says "Brush your teeth"!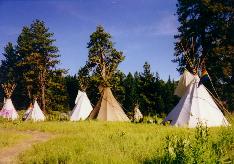 Tipi Circle as seen from Main Circle. There was also a yurt, and of course many tents in this camp.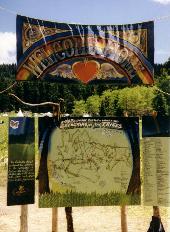 This was the large map that stood over near the Info booth and the Cooperations tent.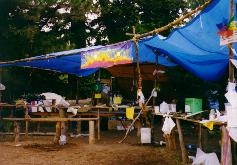 The Info Booth is a good place to go for information or rumors. They're usually somebody awake all night here too for emergencies.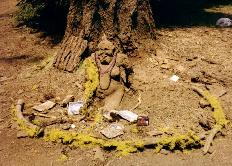 This mud goddess sculpture was at Morningstar Cafe.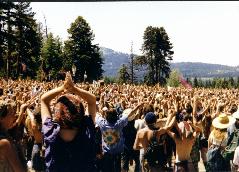 This is the circle on the 4th of July as they start cheering after a morning of silent prayer and a big OM. The banners are the parade from Kiddie Village.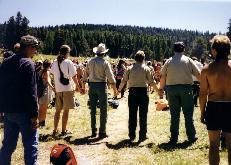 These resource rangers from the local district came to join our circle on the 4th of July to pray for world peace.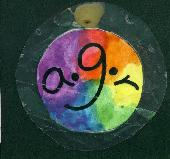 This is one of the AGR buttons madgixmax made and passed out all around the gathering. Ultimately, somebody started callling these the "Agro" buttons, and the name stuck. Even the Forest Service was wondering what they stood for, but we all know they stand for alt.gathering.rainbow, our newsgroup.
Cleanup starts by everyone hauling trash to the trail head for sorting, recycling, or disposing.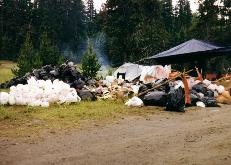 Here's the recycling station down at Welcome Home in the parking lot. All of this will be sorted for recycling. The stuff that can't be recycled will be burned, composted, or disposed of properly until nothing is left.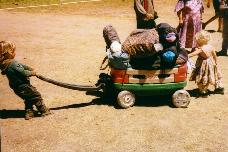 Towards the end of the gathering, I saw these kids helping haul all their stuff out to the parking lot.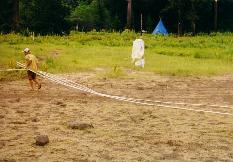 The water system also comes out. There were close to 4 miles of water pipe run this year for all the kitchens. This pipe was from the run to Kiddie Village.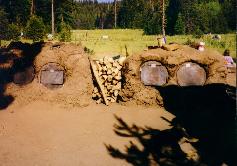 These were the ovens up at Loving Ovens. One night I watched these ovens crank out soo many oatmeal raisin cookies, that none of the hundreds of people hanging out by the kitchen could eat anymore! Not to mention the Peach cobbler, all the wonderful rolls for main circle, and Michael John's chocolate 50th birthday party cake.
---
For general information about the Rainbow Family and regional events, please first look around the web site. You can find most info you'd want by going back to the top level and searching again. Good spots to start are the Calendar of regional Events, or the Hotlines.
If that doesn't work, email our newsgroup at gathering@conf.welcomehome.org

Bugs in this web page can go to me at rob@welcomehome.org